NEWS
ART GALLERY GUIDE
ART GALLERY DUNGEON GUIDE
Explore the newly released dungeon "ART GALLERY" and experience the classic old-english genre. Get stronger and collect great items for you and your team.
In order to access the Dungeon, you need to have an Art Gallery pass.
Art Gallery Dungeon is in North Asia Map
You can access using ' Art Gallery Pass ' that you can buy from Item Mall.
Art Gallery Pass duration 30min.

Also you can Buy 'Daily Scroll 30D' that give you x30 art gallery pass (1 each day) and x90 medals (3 each day).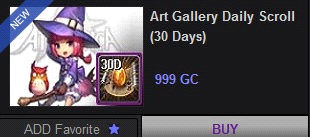 * Note: Art Gallery Daily Scroll is Not Tradeable.
* Note: Only Art of Gallery Pass from IM are tradeable.
HOW GET MEDALS.
Daily Quest (repeatable quest)
NPC: Art Gallery Worker
Quest: Kill 100 intruder Akong
Rewards: 1 medal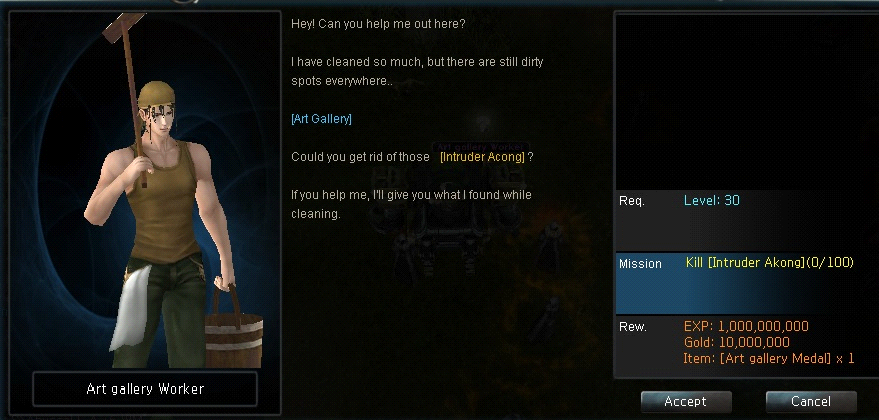 Acong Rewards:
* Note (page 1)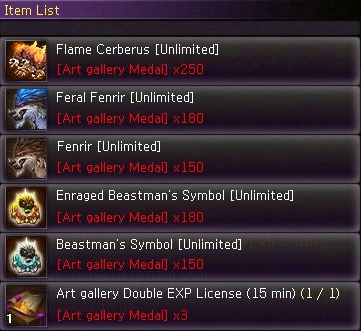 THERE ARE 2 WAYS CAN WE GET MEDALS:
Doing NPC Dialy Quest give us 1 medal per day, this is long and hard way to get items from acong.
1. Ex. If we want get Flame cereberus we need to do the daily quest for 250 days. NPC Art Gallery Worker to get 250 art gallery medal. The same happen with other items from acong.
Also in this case we need to spend more $, because the quest is inside the art gallery dungeon and the pass is 1$ on IM.
2. THE EASIEST WAY IS:
1. Buy on IM 'Daily Scroll Art Gallery 30D' - This scroll duration is 30 days; x30 pass (1 each day) + x90 medals (3 each day).
2. Complete daily quest (NPC Art Gallery Worker) everyday, in 1 month give you 30 medals
If you can complete this 2 steps in 1 month you can do 120 medals (30 from quest + 90 from daily scroll).
Doing this you only going to need 1 month 10 days for new decoration
and for new mount 2 month and 1 week (in case you choose those items)
Art of Gallery Monster - Info.
Monster inside art of gallery are ' Intruder Acong'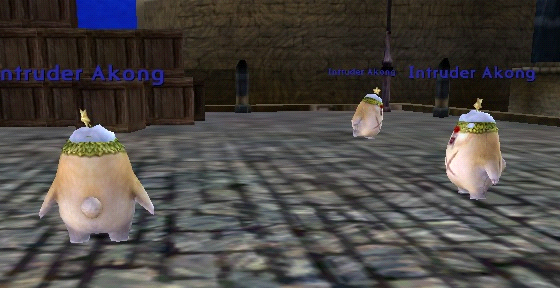 This mobs drop random items among them we find:
- Dell'Arte Ticket = Dell'arte Sword random box 0 to +10
- Faust Ticket = Faust Violin random box 0 to +10
- Lucifer Ticket = Lucifer Rifle random box 0 to +10
- Nemesis Ticket = Nemesis Cannon random box 0 to +10
Also other random items like firecrackers, gold coins, platinum coins, phoenix/judg/twilight box, etc and if you have luck you can loot medals from intruder akongs.